Rhythms of Light - Uje Wepinasow
2023
Cloth, Wood, & Paint
Rhythms of Light (Uje Wepinasow) is a cloth offering to the spirits of central Virginia painted in spectacle at one of Richmond's most iconic locations, Lewis Ginter Botanical Garden. The illuminated tapestry of symbols, marks, and movements scribed outdoors for three days in an Uje [a Dogan (Dogon) word for "being-time"] state mourns and honors the area's Indigenous, diasporic, immigrant and mixed cultural histories. Glowing with life and flowing with the rhythm of the land like an Aurora Borealis, this re-imagined Wepinasow (an Algonquian word for "cloth offering to the spirits") uplifts spirits on the shortest days while preluding new ones.
This work will be on display throughout GardenFest for your enjoyment! 
Future exhibition inquires please contact the artist directly.
The looming question of day one, " What is this person doing?"
Similar to the origins of freestyle rap, where artists gather their collective skill and knowledge to perform an impromptu work, Kyle Epps paints these works from years of dedicated study and practice. Building a connect with the space through text, conversation, meditation, and illustration, the artist develops an expansive understanding of the subject to depict an encompassing narrative of thought and experience. 

I'd like to think the staff @lewisginter for their continued efforts growing community. I'd also like to thank the crowd of people shouting to the individual, "Not to touch the art!" They really picked up the brush ( broom, i know ) and went for it.
I understand it us uncommon for a person appearing as I to do the things I do. I'm not offended, I am working to expand and nullify those perceptions.
On day two people consistently asked, " How do you know you're finished?" 
My answer, "The same way we know it's time to conclude a paper or we feel a song coming to its end. It's that feeling of completion saying it's finished."
This day was another step toward completion. Last night the wind tested my post, two broke, but that was a good thing. I want everything safe for the public and those post were not safe. So I replaced those, reinforced the replacements, then collected myself to work. It was another great day of wandering children touching wet paint and curious adults alike. Everyone will be free to interact when I'm finished painting! One more day of don't touch the art then it's all yours.
On the third day the painting was completed and all was well. 
Many people asked, "How long did it take?" Close to two years in planning, proposals, and preparation leading to one weekend of artistic expression and performance followed by months of public interactions. (The performance about 15 hours of painting and 2 hours of cutting.)
This was never created without people in mind.  Those who desire to explore the space on their own terms are welcomed. Take selfies and play next to those reflecting on framed landscapes enjoying the surroundings. 
Another frequented question has been, "How do you paint in the dark and shifting light?"
Well, its not easy to do confidently. I have experience thinking through hues in various lights from working in clubs, darkrooms, the night, etc. But really, these types of works are about marking an experience that builds an image more than painting an image that shows what happened. A photograph can capture and show you what happened and other things we see. This work is not that, it is the experience or part of it, so the lighting is not a concern.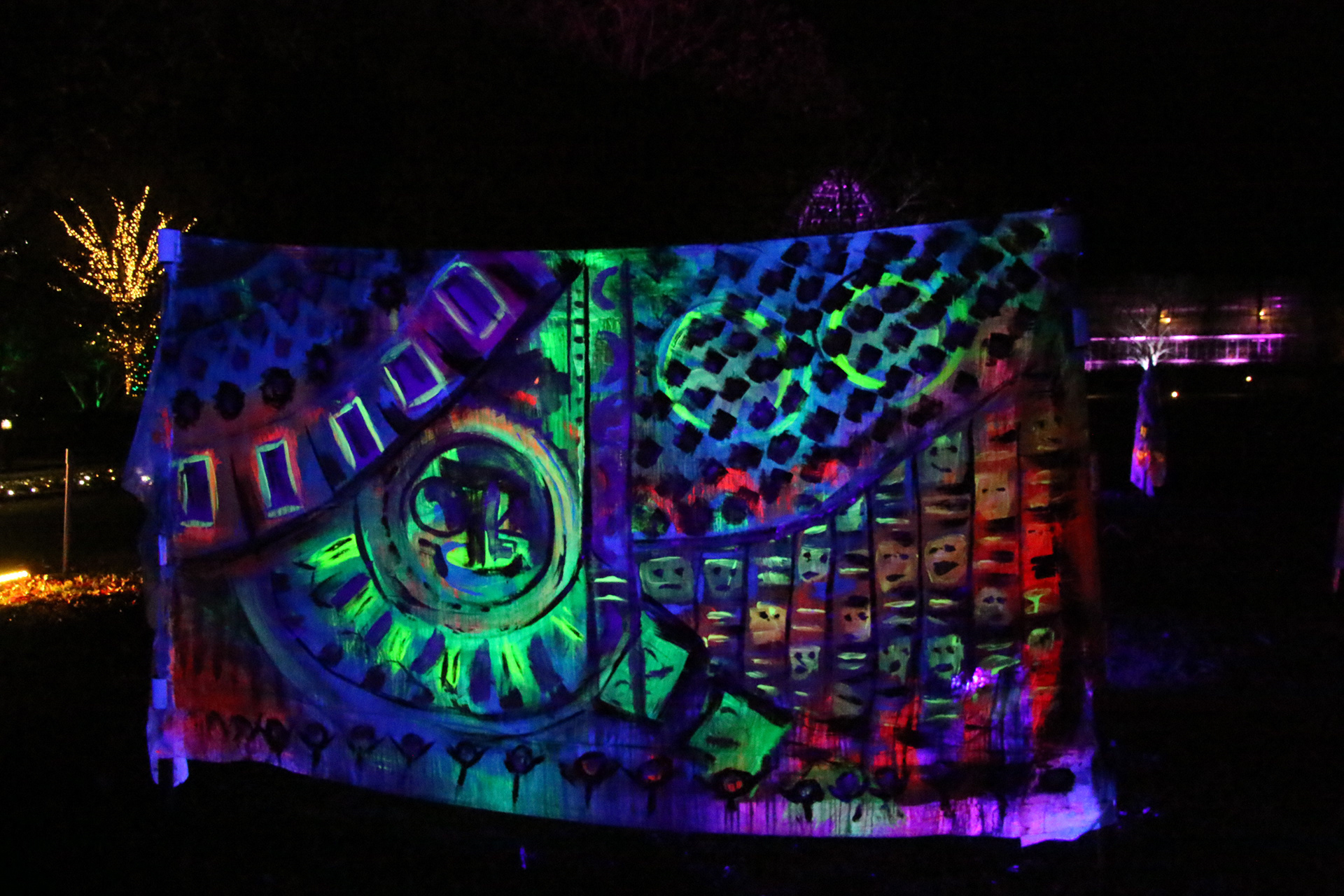 Dogon vs Dogan

I, the artist, looked into the differences of Dogon and Dogan after autocorrect sited the ethnic Dogon as nonexistent. It was an artist choice to give use to the word in this context. Below is what I found and why I supported the use of Dogan instead of Dogon. 
The choice to use Dogan instead of Dogon is to reference the degrees of separation found through the human export narrative cycling through Europe, Africa, the Caribbean, and the Americas. The term "Dogan" is still used in Canada as a non-offensive term for Dutch Irish Catholics as its slanderous history has dissolved with time. 
Dogan refers to exports/products of the Dogon people in specific reference to the 1600s Trans-Atlantic Slave trade. The term can be referenced more specifically to the Irish Catholic traders bartering weapons for imprisoned people of the African continent. Adjacent slang for those Irish traders or pirates was "dugan".
To this day searches for the word "Dogan" will refer audiences to the Dogon people of the west African continent as well as European descendants. Ironically, as I type these sentences the word "Dogon" is not considered a real word while "Dogan", a slang, is reviewed without error. It is the belief of the artist new interest, connections, and understandings will arise through the thoughtful questioning and review of the presentation.

Did you know there is still another population of people know as the Dogan that appears to have very little public information? Let me know what you find out! As always, have fun learning.
Hint - they are not located in Africa, Europe, or the Americas.

A special thank you goes out to @baaar, @efinc, @artstoreftonts, @cultureworks, @1708gallery, @tuesdayversestheopenmic, @firehousetheatre, @triangleplayers, @nilerva, and @gallery5 for preparing me for this work. I would also like to think all the places I've created live leading to these next steps in my journey. And even more appreciation to all those that continue to support me throughout my career.